Victorian Physics Laboratory by Jo
Victorian Physics Laboratory by Jo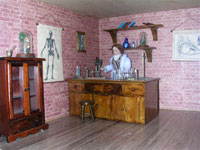 A lot of the things you can see in the lab, I have made myself. The smaller wall charts I made by finding some Victorian scientific papers online and printing them out in a much smaller scale. Then I aged them using coffee and attached sticks to either end to help them hang well.
Some of the glass lab apparatus, bottles and bits and bobs came from your shop. The retort stand and magnifying glass I made myself from a few bits I had around.
The lab bench I made completely from scratch. The cabinet, desk and small cupboard were bought and then sanded down and refinished. All the paper work on the desk I made in the same way as the charts, using some of Mendeleev's notes and various other Victorian scientific papers. There is a fountain pen on the desk, if you look carefully ... that I made using some wood and very thin brass sheet. There doesn't seem to be fountain pens for dolls houses apart from quills and I wanted a proper pen, so I decided to make one.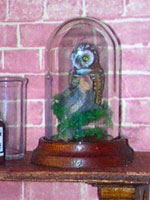 There are two taxidermy domes that I put together myself using a glass dome and base, along with a couple of owls I bought on Ebay along with a sparrow and robin. The vegetation is just some bits and pieces from a model shop that I put together in the domes.
The electromagnetic apparatus was all made by me. I am a physics undergraduate at the University of Liverpool - hence my interest in creating a lab. I've only found a couple of other dolls house labs on the internet, but they were more like a Frankenstein type of thing, rather than a normal laboratory. With my interest in physics, I really wanted to create something that included some Victorian physics. That was why I was looking for a prism and lenses too... Since laboratories are an unusual choice of room for a dolls house, there aren't really any of the things I was looking for, apart from the few glass apparatus I found. So again, I decided to make some myself.
I did a bit of research on Victorian physics, and I've visited the museum in the Royal Institute in London, which also inspired me. Electromagnetism was a big and important part of Victorian science so I have focussed on that. The apparatus I made are a battery (front left), a Roget's Spiral (back left), a generator (back right) and a cathode ray tube (front right). I'm quite pleased with how they turned out. They are mostly made of bits of wood and wire, which I have then made to look grubby (like those kind of apparatus can be like in real life).
The man was just a doll I bought really cheaply on Ebay, and completely re-dressed and wigged him. His lab coat I made by editing a pattern for a gentleman's long dress coat.